There is a story in the Bible that has really influenced my thinking when it comes to giving thanks. Thoughts of this account run through my mind on a very regular basis as I go about my next treasured digital art design.
Jesus Heals Ten Men With Leprosy (KJV)
Luke 17:11-19 – Now on his way to Jerusalem, Jesus traveled along the border between Samaria and Galilee. 12 As he was going into a village, ten men who had leprosy met him. They stood at a distance 13 and called out in a loud voice, "Jesus, Master, have pity on us!" 14 When he saw them, he said, "Go, show yourselves to the priests." And as they went, they were cleansed. 15 One of them, when he saw he was healed, came back, praising God in a loud voice. 16 He threw himself at Jesus' feet and thanked him—and he was a Samaritan. 17 Jesus asked, "Were not all ten cleansed? Where are the other nine? 18 Has no one returned to give praise to God except this foreigner?" 19 Then he said to him, "Rise and go; your faith has made you well."
Giving thanks, and giving credit to whom credit is due is right in so many ways. Of course we want to first give credit and thanks to the Father for giving us the ability and talent to do what we do, to learn what we learn and to have what we have. And then we give credit and thanks to those that God used to help train us along the way. We thank our parents, our friends, family, pastors, teachers, mentors, leaders, the list should go on and on. These wonderful people are worthy of our thanks because they give us information, guidance and sometimes even the tools we need to help make our lives better, many times at their own personal expense. All too often they are not thanked enough. I have come to the personal conclusion that I would like to be like the Samaritan that comes back and gave thanks. I hope you will too!
How does giving thanks have anything to do with digital art or small business you may ask? A lot I tell you! See in the world of digital art there is a gazillion things one ought to be thankful for and give proper credit to. It helps those that provide that service or product, and it gives the thankful heart favor in their eyes and they too become thankful for the appreciation they've been given… It's a cycle of kindness that starts with giving and continues on by thanking.
As stated in other lessons, "You cannot have a good design if you do not have good images."
Many people can take great photos with a good camera but from my personal experience it is much harder to take a professional quality photo than one thinks. I am a digital art stock provider for a few professional stock sites and the criteria for loading the stock images were no small feat for me. There are however many hobby photographers and stock providers who share their wonderful stock purely out of enjoyment on various sites that do not have stiff requirements. You can find a world of wonderful stock photos on these sites, and many times all they ask in return is for you to give them a little credit of thanks for using their images. Trust me, giving thanks is a big deal to a lot of people.. Just a little time to say thanks can brighten their days and give them energy to share more.
I saw a facebook meme and thought it so true. It read:
THOUGHT FOR THE DAY.
A person who feels appreciated
will always do more than is
expected.
I believe the above quote is true at home and in business. I'm reminded of the books I used to read when I was a young newlywed and how the author would encourage the readers to be thankful to their partners as much as possible. It told me how anytime my husband would do something good that I should give special thanks to him for his efforts… and before I knew it my husband would do this good act more often in order to get the desired results of appreciation. Did this work in our marriage? YES indeed! Same is true with raising our children or our relationship with our parents. When we see a good or desired behavior and we show sincere gratitude that action is more likely to be repeated. It may take a good bit of practice if you're not used to giving thanks and the other person may not respond right away to it. But if you keep it up, they'll feel so much better and you'll no doubt see positive effects of just simply saying thank you on a more regular basis.
Some people love appreciation and are absolutely energized by it more than others but I am convinced that all people love a little (if not a lot) of gratitude and will respond to it positively, providing future positive results in return.
Again this can be seen in business as well. When you show gratitude for a teacher, an employee or a supplier you will be encouraging them to do more positive things in the future, positive services, classes, and products.. More importantly, you may have very well put a smile on their face and made their day a bit more brighter!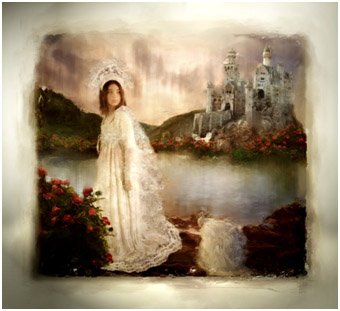 Here is an example of showing thanks and credit for the use of some free stock images. There is a HUGE membership website called Deviantart. It has thousands of free stock images from hobby photographers, designers and even models. BUT I give you a strong warning, as with most stock image websites it does not have conservative standards for all of the images it shows. I personally HATE to go to the homepage and am very careful where I browse for my images when I am on this website. Many of the members upload BAD pictures so if you're not careful with where you browse you'll be sure to offend your faith and conservative values on this website. At the same time there are thousands of believers sharing their faith, their amazing artwork, their free stock and photography images as well. So it has the good and the bad.
What you see in the photo-manipulation project to the side is about 5 different stock images I found on Deviantart back in 2010. When I posted the finished art project I gave the requested credit and a big thank you for allowing me to use the stock images in my project, called the Peacock Princess.
Giving credit is as simple as saying: The following DA stock images were used in this project with much gratitude!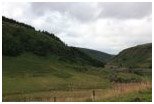 Stock: Peacock Feathers
Stock: Castle and Lake
Stock: Roses and Path
Stock: Hills and Valley
Stock: Castle
Stock: Model by Lusete
Sometimes I include the stock author name along with the stock image title and link. Later I would visit the stock pages, thanking the stock provider and letting them know I used their stock images. I usually post a link to my work in the comments field. The link is great for them to check out my work, but it's also great for me because other visitors will come and check out my work as well. AND…. If the link goes to my website it builds up my website ratings with the Search Engines giving me better SEO. Again giving thanks is good in so many ways and for so many reasons.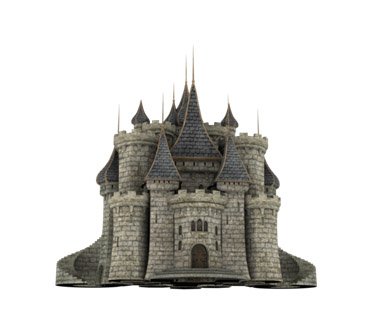 Later after this project I decided I wanted to create my own free fantasy stock images with rules of my own. You can see my credit request from the following link ( Fantasy Castle Stock ). Some stock providers have more rules, others have less. Always be mindful of a person's personal stock rules. Being a stock provider can be a very timely experience so please respect their rules as you would want yours to be respected as well. In future lessons I'll show you how you can become a professional stock supplier also.
There is a difference between free stock images and paid for stock images. The paid for stock images will usually have less rules and limitations. The free stock image providers usually request a credit link back, some do not allow commercial use and sometimes they only allow you to use their image in specific websites. This credit reference and link back helps them and encourages them to provide more. It can be somewhat wearisome when you have a lot going on and forget where you got the stock image from in the first place and what their rules may be so try to keep a list of stock images and their links together in a Word document. This organization will help you when it's time to give credit references as well as share a link so people can enjoy your artwork creation at the same time.
I love using stock images in all of my projects. I've created hundreds of my own stock images throughout the course of several years and while I have and still do financial benefit from making them available for purchase I came to overall conclusion that I prefer using other people's stock image sites over creating my own. For the most part it's just a lot easier and faster to get my projects done. Do I plan on making more stock images available? Sure thing! When I have more time to list them all! 😉
When not to provide credit references
In addition to the benefits of posting credit references to your stock suppliers it's also good to consider when NOT to post credit references. In the world of professional graphic and web design where I am hired to create a website or graphic design I will most often times use paid for images or images that do not require a credit reference back. On the other hand when I create art and photo manipulation projects such as posters and gift cards I will often times use stock images and provide credit references back as much as possible. So the type of stock image that I use really depends on how and where I plan to use it.
Can you imagine a website that has innumerable images from the top of the website to the bottom such as my madetobeunique.com homepage and every time there was any image shown there was some text reference crediting each individual stock provider? The web page would be chaotic and the visitors most likely very confused. The visitor might think the website was a stock website not a place to purchase items or services. So in some instances credit references can be confusing, annoying and very distracting to the main purpose of the web page.
Consider using paid for images or public domain images that do not require a credit link back on commercial projects (websites and advertisements). If you are working on an art project where you can provide credit references then your selection is much broader as there are hundreds of free stock providers with 1,000's and 1,000's of stock images ready for you to use with a credit reference back. The options available can be rather exciting!
Lesson Activity: Image art with photo credit.
Let's begin with a nice stock background photo that you would like to use. You can browse through some of my family friendly stock selections on UnSplash.com if you like. I've been amazed at their selection!
Next you can follow my video on how to download the image and add text on top. I'll be teaching another course more specifically about fonts, but this one gives you a quick look at how to apply text on top of pictures including a simple credit mention below.
Written Instructions
Download the stock image to your computer.
Open it in Photoshop.
Type your text on top, don't forget to put a credit mention at the very bottom. You can also put the credit link below the image instead of on the image if you're going to put the image on your own website. See example below.
Save the image with a new name.
Share image freely.
Note: Some of the fonts I am sorting through on the video are found in dafont.com or creativemarket.com, in case you're interested in having more font options. I use free and paid for fonts depending on the project and the font style.
Here's an example when using it in a website. Notice the credit is below the image instead of directly on the image.
And then the updated version below shows the credit on the image.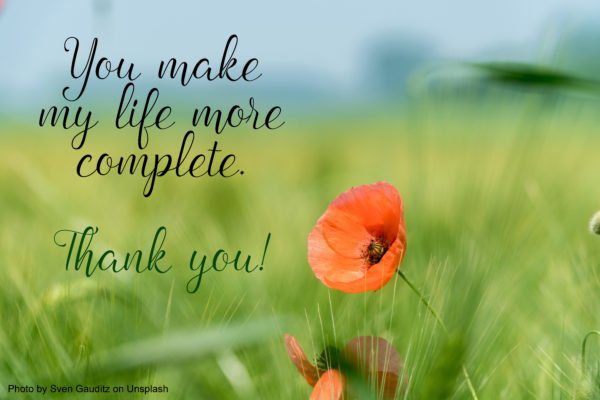 Try both examples if you have a website, try to place a description below the image like in a blog post with a credit link back to the author. If you don't have a website and just want to share the image try placing the credit text on top.
Note: Unsplash.com does not require you to post a credit link, so again this is just practicing a form of gratitude towards those that share such wonderful photos so freely. Some stock providers DO require a credit link back so understanding how to do this is very important.
Challenge: Find new wonderful stock photos you'd love to use and place them in folders separated by category or project goals such as #1. inspirational sunsets #2. silly photos and #3. photo-manipulation assets (these are just some ideas). Don't forget to keep note of where you got the stock photos from so you can give proper credit. You can also just favorite the pages with your web browser so you know where to find them instead of downloading them all. Creating folders and sub-folders that separate photos by project or category will help a lot!
Daily Activity Challenge: Every day for the following week practice your blending AND typing text on top of your images. Include a text credit of the image provider/s (if more than one) that are sharing their stock image on the bottom of your image using smaller text. Give each new photo a new name.