Lesson Activity: Dreamy Bokeh Stock Background
Today we'll learn how to create our very own professional stock background images. We'll use simple background gradients and have some fun with bokeh brush effects! First open this link and use this image as a guide or for inspiration. You can save it to your computer and open it in Photoshop. Next, you'll need some bokeh brushes.
Options on Finding Bokeh Brushes:
You can download this free brush set that's available on DA (see video).
You can purchase some brushes online such as Ron's Bokeh Brushes. These wonderful brushes are roughly $10 – $20, depending on if you can find them at a discount rate or not. They have been a worthwhile investment to me as I have used them on MANY projects over the years.
You can do a Google search for free brushes as well. There are a lot out there for free as well as for a small price. It can get a little time consuming finding just the right brush though because quite honestly the selection is huge and it's easy to get distracted by all the fun options!
Or, you can create your own. Here's a video guide on how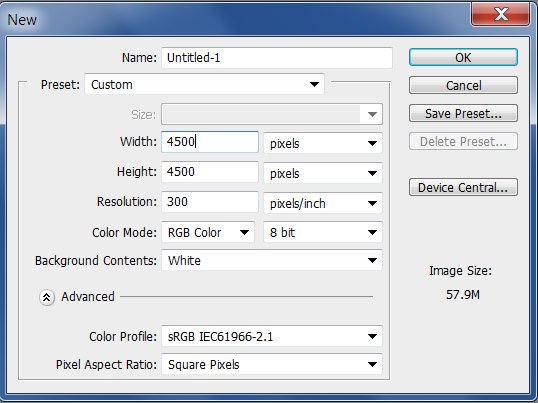 Getting Started in Photoshop:
After you have installed your Bokeh Brushes
Open up Photoshop
Create a new project
Size: 4500×4500 pixels
Use: RGB Color Mode 8 bit (see notes below)
Resolution: 300 ppi (pixels per inch)
Regarding the Color Mode: In the future you may want to try and use 16 bit color mode as it gives better overall image quality but be aware it is much more demanding on your computers performance. Here is a lengthy but good article on Color Mode size comparisons when using 8bit or 16bit.
Next, let's focus on the gold color: 947023. You're encouraged to use different shades of this same color and some of the Triadic, Analogus, Monochromatic and Complementary colors as well. However, try not to use too many different colors. It's okay to use a lot of different shades of the same color, but when you add too many unique colors to a design (like blue, purple, red, green) it can easily get confusing and messy (yuck). I usually stick to using 2-3 unique complimentary colors in a design with plenty of different shading. Here is a great place that explains what Triadic, Analogus, Monochromatic and Complementary colors are and how they can help you in your digital art projects.
Notice the different shades of gold associated with this color in the image chart below. Have fun trying different designs using the following range of shades. You can save the following color chart to your computer and open it up in Photoshop in order to easily select the different shades with your eye-dropper (see video for an example of this process).

Use different brushes to create fun waves, lines and shapes including your new bokeh brushes! Try different brush sizes and colors from your color palette. Use my video to help walk you through. Try different blending effects like shadows or glow effects and see what you come up with!
Daily Activity Challenge: Every day for the following week practice making a new professional bokeh stock backgrounds. Try a different look each time. Move the bokeh in different places, try different shades, shapes and blending effects. Save each file with a different name and in the highest quality possible. Do not compress these images at all. If you plan on providing these images to other people as professional stock backgrounds they'll need to be in the highest quality possible!